Early Agriculture in Northern Michigan
Durance Farm is a family-owned and operated Michigan Centennial Farm established in 1889 by George and Mary Isabel (Cook) Durance. It is located in northwest section of Michigan's lower peninsula in Charlevoix Township adjoining the city of Charlevoix. Lake Michigan is one-half mile north of the farm, and Lake Charlevoix is about a mile south of the farm.
Small family farms of the 1800s and early 1900s were almost self-sufficient, raising chickens, pigs, cows, growing fruits, vegetables, and cattle feed, keeping bees for honey and fertilization of crops, and selling the surplus locally.
From 1889 through the 1920s the principal farming activity was a dairy operation, gradually changing to strawberry farming from 1908 until the 1980s.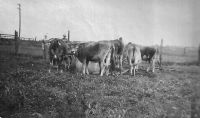 A separate 23-acre pasture was purchased in 1901 located on present U.S. 31 North. For years the Durance children drove the cattle back and forth between the pasture and barn for milking. Then George Durance built a shed and well on the pasture property to water and milk the herd on site. The milk was transported by horse and wagon to the home farm site. The dairy operation ended in the late 1920s following the death of George Durance. The 43-acre pasture was donated to the American Youth Hostel Detroit Council for a future Youth Hostel in memory of Albin Durance by his sister, Frances Durance following his death in 1973. Albin, son of George and Mary Isabel, was a devoted hiker and hosteler while working in Detroit following World War II. The AYH Detroit Council sold the pasture property across from Charlevoix Country Club instead of building a hostel in northern Michigan.
In the early 1900s the youngest Durance children, Frances, Genevieve and William enjoyed picking wild strawberries, raspberries and blackberries on the "Commons" an undeveloped wooded area between the farm and Lake Michigan (behind Mt. McSauba Ski Area, including North Point Subdivision). The uncultivated wild berries were delicious and plentiful, and father George ordered strawberry plants for the farm, beginning a very successful strawberry farm operation. Summer resorters, hotels and residents were a large market for strawberries. Wealthy summer residents ordered crates of berries for their cooks to preserve as jam to take home when they left Charlevoix after the summer season. Durance Farm is still remembered by old residents and resorters as the "strawberry farm".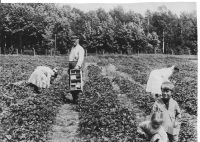 Strawberry farming was the principle crops from the early 1900s until the 1980s when William Durance's son, Edward, and his family planted a registered hardwood plantation of 8,000 trees on most of the acreage in 1985. In recent years, deer, badgers, woodchucks, skunks, raccoons, rabbits, birds and other wildlife flourish in the re-forested green space amidst the residential and industrial development surrounding the old homeplace of George and Mary Isabel Durance.